Top 10 Wireless Noise Cancelling Headphones for 2017
Imagine after a day of a very stressful work and you are rushing to get home just to get a quite place to relax and enjoy the rest of your day (or perhaps your night). Or imagine that you are in a plane and want to enjoy your music but you hear all the conversations of the other passengers plus the sound of the planes's engines. Of course you would wish you have that noise cancelling headphones that almost everybody now has. But with all the brands out there, It's so confusing to choose the right one for you.
Fortunately for you, we have shortlisted the most effective and value for your money wireless noise cancelling headphones so that you can make an intelligent decision on what is best suited for you. Here are the list.
Wireless Noise
Cancelling Headphones
Plus Extra Cable
Battery Life
Check Price Here
Bose Quitecomfort 35
No
40 hours
BÖHM B76
No
16 hours
Cowin E-7
Yes
30 hours
Sennheiser HD 4.50BTNC
Yes
19 hours
Sony MDR1000X
No
20 hours
Plantronics BackBeat PRO
Yes
24 hours
Samsung Level On
Yes
11 hours
Denon AHGC20
Yes
20 hours
Parrot Zik 3.0
Yes
16 hours
Philips SHB9850NC/27
Yes
18 hours
#Bose Quitecomfort 35 Wireless Headphone
No noise. No wires. Just your music and you.
When it is about noise cancellation, Bose QuiteComfort 35 is not just the best in its class. They reinvented the category. With QuietComfort 35 headphones, there is no noise to stand in the way of your own favorite music, with no wires to tangle at all.
They put a lot of research into headphones which produces accurate listening enjoyment.With an easy connection to your devices via Bluetooth. They offer well-balanced music performance regardless how noisy your environment is, and it gets calls efficiently even with a busy, noisy street. With Twenty hours of wireless battery life, you'll be able to listen all day long; and also the fit is light and comfy enough for it, too. To get an easy control over your devices, use the included Bose Connect app.
#BÖHM B76 Wireless Noise Cancelling Headphone
BÖHM's ultra powerful headphones enable you genuinely experience and have fun with sharp, vivid, richly textured sound and robust bass. Break free from daily stress with your preferred music or audio-books whenever, wherever. Designed with the most recent active noise cancellation technology with ambient noise, BÖHM's B76 headphones will provide you with up to Sixteen hrs of concentrated comfy listening experience!
Effective Noise-Cancelling
BÖHM has designed one of the most sophisticated active and passive noise cancelling technology in their headphones. Turn the switch on these genuinely active noise cancelling headphones and throw your self with your music with out distractions, anywhere you may be.
Hands-On Control
Be in control with just a tap of a finger. Having a power/multifunction button,playback and volume control buttons, a Bluetooth indicator, USB charging port, , and noise canceling button which is include in your B76 headset.
#Active Wireless Noise Cancelling Headphone
Truly the best-ever performing wireless headphone from COWIN
E7 Active Noise Cancelling headphones will be the best-ever performing headphone from COWIN. They provide you with sharp, ultra powerful sound–and quietness that allows you to listen to your own music far better.
Check Price at Amazon.com
They provide the songs you like with heavy, and distinct sound. In addition, COWIN active noise cancelling technology keeps track of the noise surrounding you and cancels it all out, letting you concentrate on what you desire which is to hear–whether it's your audio, your calls or perhaps just a peace and quiet surroundings. It's ultra Lightweight and comfy around your ear so you can wear them the entire day plus an incredible 24 up to 30 hours of playtime before you drain your batteries.
#Sennheiser HD 4.50 BTNC Wireless Headphone
Introducing the Sennheiser HD 4.50BTNC Wireless Headphone
HD 4.50BTNC Wireless headphone delivers almost everything music enthusiasts with energetic life styles may choose to: With Bluetooth 4.0 technology, user-friendly, outstanding wearing ease and comfort and amazingly effective and powerful sound. This stylishly modest closed-back around the ear headphone also benefits Sennheiser so called NoiseGard active noise cancellation enabling you to appreciate music, videos or cell phone calls in serenity – everywhere you go.
Check Price at Amazon.com
Do you know? Sennheiser's first active noise reduction headphones had been created in 1984 for Lufthansa Airlines and had been the very first active noise cancellation headsets to obtain FAA-TSO certification (Federal Aviation Administration Technical Standard Order). You can enjoy 19 hours of battery life but that does not stop you from enjoying this state of the art headset. Simply plug-in supplied detachable cable and you're set again to listen to your songs endlessly.
#Sony MDR1000X Wireless Noise Cancelling Headphone
Premium Noise Cancelling Sony Headphone with Bluetooth
Never miss a beat with smart, adaptive noise cancelling, Hi resoulution Audio and wireless freedom which allows you to focus on your audio in its purest form. With the Industry-leading noise cancelling performance*. it boasts a personal noise cancelling optimizer that will adapt to your surroundings and gets rid of noise in any conditions.
This headset aso includes The adaptive Attention function that lets you quickly hear conversations and also your environment simply by cupping your hands on the right earcup of your headsets.
Footnotes:
*Ambient noise reduction determined by Sony testing of Sony 1000X, Surpasses Studio WL and Bose QC35 with JEITA noise cancelling standard.
#Plantronics BackBeat PRO with Mic
Wireless, active noise canceling headphones mic
Music tends to make any moment more private. Each day, most of us load our digital audio to make a personal soundtrack when in our own home, running errands, work, , as well as while on a trip.
To seek out sanctuary from a busy world and submerge with your music, you might want to put on the latest Plantronics BackBeat PRO stereo headphones and allow vibrant, realistic audio which help to make each and every moment your very own. With as many as 24 hours of constant wireless use, you will have a longer playlist to listen to.
Plantronics unique audio and superb design enable you to completely immerse with your music. With 50 yrs of industry-leading skills in audio and communication technologies and style, Plantronics discovers how to produce all of the vibrant bass, natural midtones and crisp highs of your own music thru headphones so comfortable, you will not wish to remove them.
With as much as 24 hrs of constant audio streaming plus an audio cable for the wired connection, you can maintain the songs and flicks going on for as long as you want.
#Samsung Level On Wireless Noise Canceling Headphones
Presenting the latest Samsung Level On Wireless headphones. Providing both wireless and wired, these particular flexible headsets are definitely the ideal option for users that value both top quality sound as well as the flexibility which wireless technology has to give. The Level On Wireless works together with Samsung Galaxy tablets and smartphones as well as any kind of gadget with built-in Bluetooth technology or 3.5mm connectivity.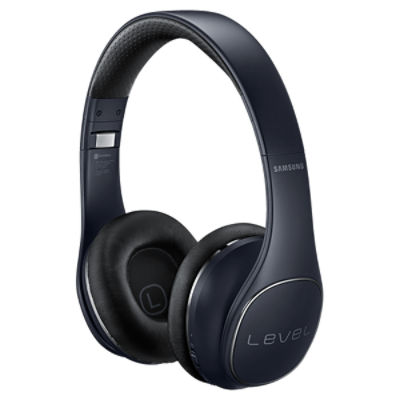 The soft, mesh ear pads and headpiece cushion provide for hrs of listening, having an easy fold-up style for easy transport. Level On Wireless also boasts Active Noise Cancellation, with built-in NFC pairing, and high grade aptX sound technology to get an outstanding listening freedom.
Use its Level App to gain access to and manage advanced settings on the Level On Wireless headphone through your paired Android device. (You may download the Level App on the Google Play store). You can change the Samsung SoundAlive settings, switch on the Volume Monitor for hearing protection, and you may also look at your headset battery status, or even get a quick access to as much as 4 of your own favorite apps in the Level On Wireless Quick Panel.
The design is Ergonomic, with a smart command touch controls which are built-in the headphone to make it more convenient to control, and intuitive with your fingertips. You may control the volume, audio tracks, play or pause and even with S Voice Mode.
#Denon AHGC20 Globe Cruiser
AH-GC20 Wireless Noise Cancelling Headphones
Take pleasure in amazing audio in blissful silence without the headache of tangled cables with Denon's Globe Cruiser AH-GC20 wireless headphones with active noise cancellation. Boasting the newest Wireless bluetooth 4.0 Dual Mode wireless technologies which includes Sophisticated Audio Coding (AAC), the AH-GC20 over the ear headphones that get rid of the need for a cord. It communicates wirelessly in your smart phone, tablet or any portable music player.
Offering stylish and modern European design, the AH-GC20 headsets produce excellent audio quality together with extraordinary noise cancellation, minimizing surrounding noise by an impressive 99%. Designed with the most recent aptX wireless technologies, including aptX Low Latency and cVc (Clear Voice Capture), the AH-GC20 headsets include soft memory foam ear pads that offer a very comfy fit together with added passive noise reduction.
Created for Denon Globe Cruiser headsets, the Denon Travel smartphone app is the ideal match to the AH-GC20, delivering control with your fingertip using a variety of features, and it is available in iOS and Android versions for compatibility with all the largest selection of smart phone products.
The package comes with a 3.5-millimeter -¼-inch standard headset plug adaptor for connection to studio and home audio gadgets, plus an airplane adapter plug. It also includes USB Micro-B cable which allows you to charge the AH-GC20 lithium-ion battery from your USB charger or any computer USB port. To have fun with as much as a total of 20 hrs of wireless listening, the AH-GC20 recharges in just only Three hours.
# Wireless Noise Cancelling Headphones
The newcomer on the Zik family provides fashionable style. Found in various materials and colors, now you may select the design which displays and matches your own personal fashion. Zik 3's stylish design, by Starck, guarantees you maximum ease and comfort as well as fashion.
Automatic adaptive noise reduction catches exterior audio and gets rid of it for unmatched audio quality. This enables you to appreciate your own music everywhere you go: in your own home, at the job, or on public transport!
Parrot Zik 3 currently supports USB audio: tune in to your own music in hi-fi quality whilst simultaneously charging your headphone. Now you can take advantage of the options that come with the dedicated Zik app on all your gadgets, such as your Android Wear or your Apple Watch!
Utilize the producer mode to make your personal audio presets and share all of them with in the Zik community. This application uses the tags found in your own music files and instantly chooses the ideal presets available for you, making sure optimum audio and sound quality. Parrot Zik 3 comes with a robust processor that's capable of recreating the acoustics of several concert halls. Airplane mode provides you up to 18 hours of battery life! As soon as your headphone runs out of battery, you can keep listening to your own music by using the mini-jack cable which is included in the box.
#Philips SHB9850NC/27 Wireless Noise Cancelling Headphones
Tune out the world, tune in to precision sound
Listen in to a universe of audio sound using the Philips SHB9850NC headphones. Featuring as much as 99% noise cancellation, these headset can be your greatest travel buddy. Appreciate music effortlessly with the built-in smart touch control and a one-tap Bluetooth /NFC pairing with devices.
Check Price at Amazon.com
You can also enjoy top quality wireless sound with its advanced Bluetooth 4.0 together with the built-in AAC and aptX codec support. Take pleasure in Sixteen hours of steady audio playback with Bluetooth and Active Noise Canceling on, you may increase the battery life of up to 28 hours when you use the Bluetooth or even 33 hours when only ANC ( Active Noise Canceling ) is on.
#Conclusion
There you go, I hope you can find a valuable information on the list of Top 10 Wireless Noise Cancelling Headphones presented here. Happy Listening!